WRITING
BÀI MẪU WRITING SÁCH IELTS CAMBRIDGE 15 - TASK 1 TEST 2: Tourists Visiting a Caribbean Island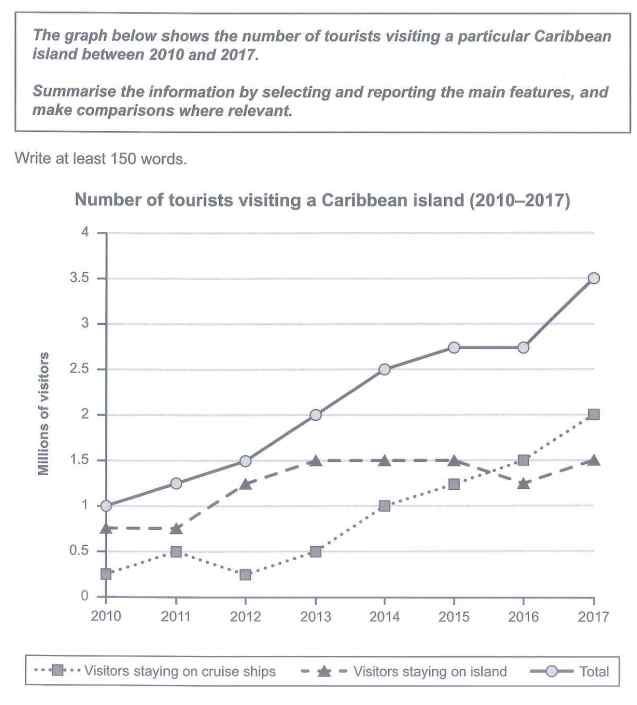 The line graph illustrates the total visitors to an island in the Caribbean, as well as where they stayed, from 2010 to 2017.
Overall, the total number of tourists increased significantly over the period. In addition, the number of visitors staying on cruise liners witnessed a dramatic rise, overtaking those staying on the island, which underwent a more moderate increase.



There were about 750 thousand visitors staying on the island at the beginning of the period, approximately 500 thousand above those staying on cruise ships. During the next three years, the figure for the former doubled (to 1.5 million), while vacationers on cruise liners fluctuated between approximately 250 thousand and 500 thousand. From 2013 to 2015, those staying on the island plateaued at 1.5 million and then fluctuated at this level until the end of time surveyed. In the meantime, cruise ships passengers rose steadily, surpassing the former midway through 2015 and reaching 2 million in 2017.

As a result of the growth in the two sectors, total visits started at 1 million in 2010, and grew consistently through to 2015, before experiencing a brief plateau at around 2.7 million through 2016. In 2017, it increased sharply to 3.5 million, which was over triple the immediate amount.

Band 8.0
Mình cam kết các bài viết mẫu của mình ở website này đều đã được sửa và chấm bới cựu IELTS examiner (phí tầm 20-25 USD/bài) để đảm bảo chất lượng và đủ tốt để các bạn tham khảo. Nếu bạn cần hỏi gì hãy comment nhé.
Bài viết cùng danh mục